The Old YANKEE Know HOW back in the 1900s, Yankees from the North_east; they could run the nation; the West was too disorganized, mid-west was a lost, waste-land, South was run by slaves-owners) while the Norht-Easterners knew how to build machines, and boats, railroads,coal, etc). But Americans now want to work with GAS, to bring back coal is crazy.Coal contaminate the whole countryside and killing the miners too! Dr Olga Lazin-A.
By Kurt Andresen; Whoa, yes, I thought: exactly. America had changed since I was young, when truthiness and reality-based community wouldn't have made any sense as jokes. For all the fun, and all the many salutary effects of the 1960s—the main decade of my childhood—I saw that those years had also been the big-bang moment for truthiness. And if the '60s amounted to a national nervous breakdown, we are probably mistaken to consider ourselves over it.
FROM OUR SEPTEMBER 2017 ISSUE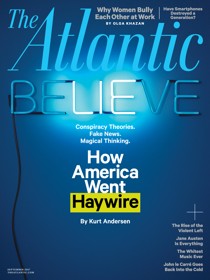 Try 2 FREE issues of The Atlantic
Each of us is on a spectrum somewhere between the poles of rational and irrational. We all have hunches we can't prove and superstitions that make no sense. Some of my best friends are very religious, and others believe in dubious conspiracy theories. What's problematic is going overboard—letting the subjective entirely override the objective; thinking and acting as if opinions and feelings are just as true as facts. The American experiment, the original embodiment of the great Enlightenment idea of intellectual freedom, whereby every individual is welcome to believe anything she wishes, has metastasized out of control. From the start, our ultra-individualism was attached to epic dreams, sometimes epic fantasies—every American one of God's chosen people building a custom-made utopia, all of us free to reinvent ourselves by imagination and will. In America nowadays, those more exciting parts of the Enlightenment idea have swamped the sober, rational, empirical parts. Little by little for centuries, then more and more and faster and faster during the past half century, we Americans have given ourselves over to all kinds of magical thinking, anything-goes relativism, and belief in fanciful explanation—small and large fantasies that console or thrill or terrify us. And most of us haven't realized how far-reaching our strange new normal has become.
Much more than the other billion or so people in the developed world, we Americans believe—really believe—in the supernatural and the miraculous, in Satan on Earth, in reports of recent trips to and from heaven, and in a story of life's instantaneous creation several thousand years ago.
If the 1960s amounted to a national nervous breakdown, we are probably mistaken to consider ourselves over it.
We believe that the government and its co-conspirators are hiding all sorts of monstrous and shocking truths from us, concerning assassinations, extraterrestrials, the genesis of aids, the 9/11 attacks, the dangers of vaccines, and so much more.
And this was all true before we became familiar with the terms post-factual and post-truth, before we elected a president with an astoundingly open mind about conspiracy theories, what's true and what's false, the nature of reality.
We have passed through the looking glass and down the rabbit hole. America has mutated into Fantasyland.
How widespread is this promiscuous devotion to the untrue? How many Americans now inhabit alternate realities? Any given survey of beliefs is only a sketch of what people in general really think. But reams of survey research from the past 20 years reveal a rough, useful census of American credulity and delusion. By my reckoning, the solidly reality-based are a minority, maybe a third of us but almost certainly fewer than half. Only a third of us, for instance, don't believe that the tale of creation in Genesis is the word of God. Only a third strongly disbelieve in telepathy and ghosts. Two-thirds of Americans believe that "angels and demons are active in the world." More than half say they're absolutely certain heaven exists, and just as many are sure of the existence of a personal God—not a vague force or universal spirit or higher power, but some guy. A third of us believe not only that global warming is no big deal but that it's a hoax perpetrated by scientists, the government, and journalists. A third believe that our earliest ancestors were humans just like us; that the government has, in league with the pharmaceutical industry, hidden evidence of natural cancer cures; that extraterrestrials have visited or are visiting Earth. Almost a quarter believe that vaccines cause autism, and that Donald Trump won the popular vote in 2016. A quarter believe that our previous president maybe or definitely was (or is?) the anti-Christ. According to a survey by Public Policy Polling, 15 percent believe that the "media or the government adds secret mind-controlling technology to television broadcast signals," and another 15 percent think that's possible. A quarter of Americans believe in witches. Remarkably, the same fraction, or maybe less, believes that the Bible consists mainly of legends and fables—the same proportion that believes U.S. officials were complicit in the 9/11 attacks.
When I say that a third believe X and a quarter believe Y, it's important to understand that those are different thirds and quarters of the population. Of course, various fantasy constituencies overlap and feed one another—for instance, belief in extraterrestrial visitation and abduction can lead to belief in vast government cover-ups, which can lead to belief in still more wide-ranging plots and cabals, which can jibe with a belief in an impending Armageddon.
Why are we like this?
The short answer is because we're Americans—because being American means we can believe anything we want; that our beliefs are equal or superior to anyone else's, experts be damned. Once people commit to that approach, the world turns inside out, and no cause-and-effect connection is fixed. The credible becomes incredible and the incredible credible.
Video: America's Departure From Reality
Author Kurt Andersen describes how the 1960s and the internet gave rise to the current political climate.
The word mainstream has recently become a pejorative, shorthand for bias, lies, oppression by the elites. Yet the institutions and forces that once kept us from indulging the flagrantly untrue or absurd—media, academia, government, corporate America, professional associations, respectable opinion in the aggregate—have enabled and encouraged every species of fantasy over the past few decades.
A senior physician at one of America's most prestigious university hospitals promotes "miracle cures" on his daily TV show. Cable channels air documentaries treating mermaids, monsters, ghosts, and angels as real. When a political-science professor attacks the idea "that there is some 'public' that shares a notion of reality, a concept of reason, and a set of criteria by which claims to reason and rationality are judged," colleagues just nod and grant tenure. The old fringes have been folded into the new center. The irrational has become respectable and often unstoppable.
Our whole social environment and each of its overlapping parts—cultural, religious, political, intellectual, psychological—have become conducive to spectacular fallacy and truthiness and make-believe. There are many slippery slopes, leading in various directions to other exciting nonsense. During the past several decades, those naturally slippery slopes have been turned into a colossal and permanent complex of interconnected, crisscrossing bobsled tracks, which Donald Trump slid down right into the White House.
American moxie has always come in two types. We have our wilder, faster, looser side: We're overexcited gamblers with a weakness for stories too good to be true. But we also have the virtues embodied by the Puritans and their secular descendants: steadiness, hard work, frugality, sobriety, and common sense. A propensity to dream impossible dreams is like other powerful tendencies—okay when kept in check. For most of our history, the impulses existed in a rough balance, a dynamic equilibrium between fantasy and reality, mania and moderation, credulity and skepticism.
The great unbalancing and descent into full Fantasyland was the product of two momentous changes. The first was a profound shift in thinking that swelled up in the '60s; since then, Americans have had a new rule written into their mental operating systems: Do your own thing, find your own reality, it's all relative.
The second change was the onset of the new era of information. Digital technology empowers real-seeming fictions of the ideological and religious and scientific kinds. Among the web's 1 billion sites, believers in anything and everything can find thousands of fellow fantasists, with collages of facts and "facts" to support them. Before the internet, crackpots were mostly isolated, and surely had a harder time remaining convinced of their alternate realities. Now their devoutly believed opinions are all over the airwaves and the web, just like actual news. Now all of the fantasies look real.
Our shocking Trump moment is just the ultimate expression of mind-sets that have made America exceptional for its entire history.
Today, each of us is freer than ever to custom-make reality, to believe whatever and pretend to be whoever we wish. Which makes all the lines between actual and fictional blur and disappear more easily. Truth in general becomes flexible, personal, subjective. And we like this new ultra-freedom, insist on it, even as we fear and loathe the ways so many of our wrongheaded fellow Americans use it.
Treating real life as fantasy and vice versa, and taking preposterous ideas seriously, is not unique to Americans. But we are the global crucible and epicenter. We invented the fantasy-industrial complex; almost nowhere outside poor or otherwise miserable countries are flamboyant supernatural beliefs so central to the identities of so many people. This is American exceptionalism in the 21st century. The country has always been a one-of-a-kind place. But our singularity is different now. We're still rich and free, still more influential and powerful than any other nation, practically a synonym for developed country. But our drift toward credulity, toward doing our own thing, toward denying facts and having an altogether uncertain grip on reality, has overwhelmed our other exceptional national traits and turned us into a less developed country.
People see our shocking Trump moment—this post-truth, "alternative facts" moment—as some inexplicable and crazy new American phenomenon. But what's happening is just the ultimate extrapolation and expression of mind-sets that have made America exceptional for its entire history.
America was created by true believers and passionate dreamers, and by hucksters and their suckers, which made America successful—but also by a people uniquely susceptible to fantasy, as epitomized by everything from Salem's hunting witches to Joseph Smith's creating Mormonism, from P. T. Barnum to speaking in tongues, from Hollywood to Scientology to conspiracy theories, from Walt Disney to Billy Graham to Ronald Reagan to Oprah Winfrey to Trump. In other words: Mix epic individualism with extreme religion; mix show business with everything else; let all that ferment for a few centuries; then run it through the anything-goes '60s and the internet age. The result is the America we inhabit today, with reality and fantasy weirdly and dangerously blurred and commingled.